Radom u contest ili EME uvjetima  pokazuje se potreba za postupnim uključivanjem/isključivanjem pojedinih elementa sustava kao što su pretpojačalo, pojačalo snage i RTX .
Sequencial switching of particular stations devices like preamplifier, PA and RTX is necessary and very important.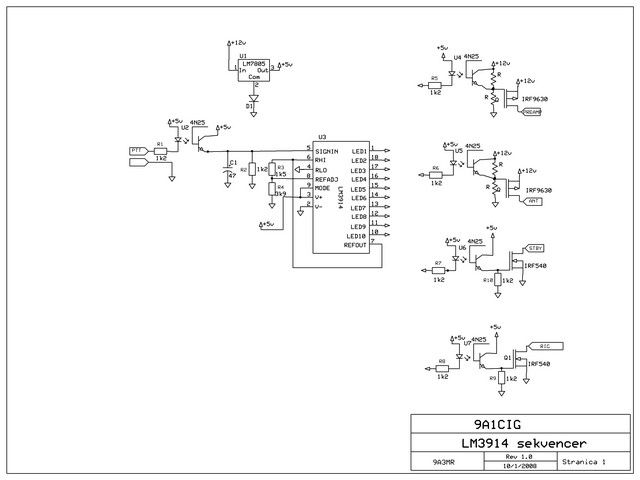 sequencer schematic: download
Koristeći pojačala snage bez sekvencera u antenskim sustavima moguće je doći u situaciju da zbog različitog vremena reakcije upotrebljenih releja  linearno pojačalo u trenucima preleta nije dobro zaključeno i da antenski relej ukapča "na vruće" tj. da u trenutku ukapčanja već prisutna RF energija na kontaktima releja. Upotreba pretpojačala dodatno komplicira stvar jer je moguće da se pretpojačalo ukluči dok još ima RF energije na kontaktima releja što dovodi to trenutnog pregaranja istog.
"Hot switching" and preamp burnout are very likely if sistem is switched without proper sequence.
Kao osnova sekvencera korišten je integrirani sklop LM3914 koji se koristi kao LED bar displej drajver. Ovisno o naponu na nožici 5 (0 do 5V) uključuju se 10 izlaza za LED diode. Sekvencer je izveden tako da se u trenutku promjene stanja na PTT ulazu puni ili prazni RC  sklop kojega čine C1 i R2. Na taj način napon na nožici 5 eksponencijalno raste ili pada pa je moguće, odabirom  pogodne točke na krivulji punjenja/pražnjenja izabrati najbolji trenutak za uključenje/isključenje željenog uređaja. Također je moguće promjenom RC članova  mijenjati osnovnu  brzinu RC sklopa.
Base of this seqencer is IC LM3914 LED bar display driver. 10 LED outputs are switched accordingly to voltage applied on pin 5 (0 to 5V). Changing of PTT state cause charging/decharging of RC components C1/R2 and it is possible to choose point on charging/decharging curve when desired device should be swithed. It is posible to change time constant by changing amounts of C1/R2.
Na priloženoj shemi upravlja se sa 4 uređaja: pretpojačalom, antenskim relejem, linearnim pojačalom snage i RTX-om a navedeni redoslijed je ujedno i sekvenca prilikom prelaska na predaju: prvo se isključuje antensko pretpojačalo iz napona i terminira sa 50 oma zatim se uključuje glavni antenski relej. Potom se pojačalo snage stavlja u radni režim a naposljetku se RTX stavlja u predaju. Pretpojačalo i antenski relej su montirani u neposrednoj blizini antene i u RX modu na njima je stalno prisutan napon od 12V iako je moguće koristiti i druge napone. U trenutku prelaza na predaju, MOSFET P-tipa isključuje 12V uređajima smještenima pri anteni da bi nakon toga MOSFETi N-tipa dali kratki spoj za linear i RTX.
Device is projected to control 4 devices: preamplifier, antenna relay, power amplifier and RTX respectively. During TX sequence first step is to switch off and 50 ohms termination of preamplifier then switching of antenna relay etc. Pream and relay are mounted close to antena and switching logic is somewhat different than logic of PA and RTX. In RX state 12V is applied on preamp (and corespodending terminating relays) and antenna relay. In TX state P-type MOSFET switching off preamp and coaxial relay while N-type MOSFETs switch on PA and RTX.
Shema antenskog preklopnika: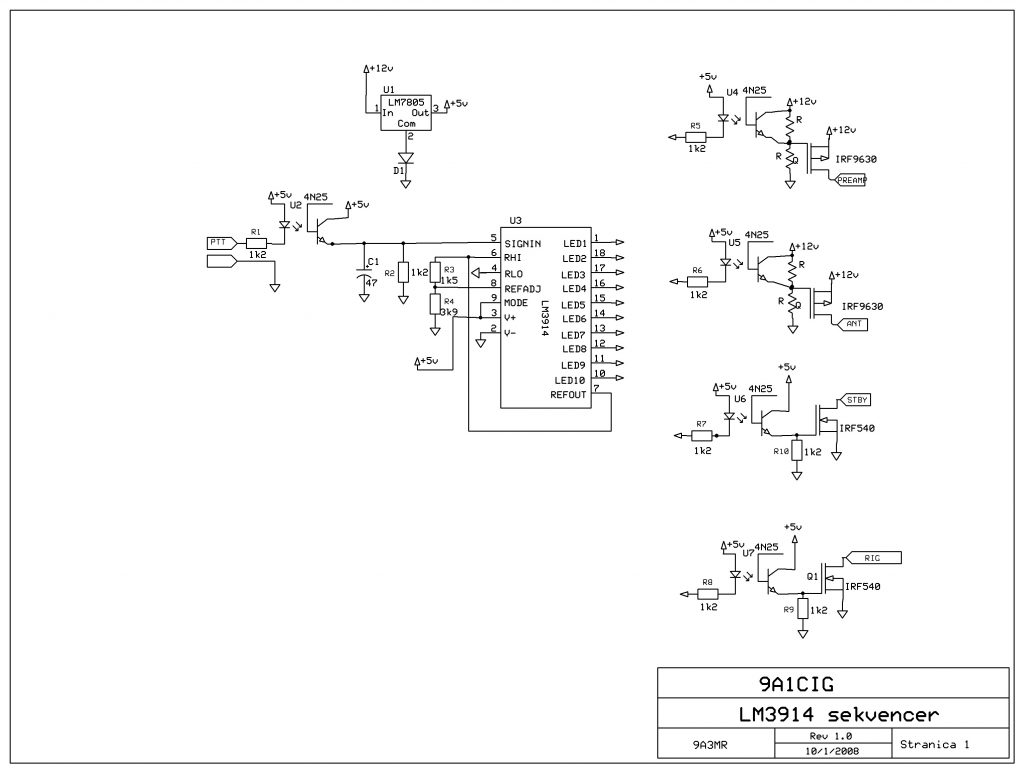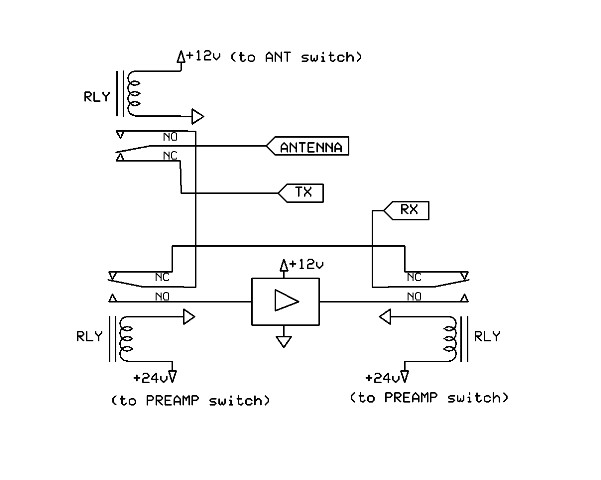 Kako su koaksijalni releji koji terminiraju/preklapaju granu sa pretpojačalom predviđeni za 24V tako je napravljena modifikacija sekvencera na način da se umjesto 12V na sors odgovarajučeg P-kanalnog MOSFETa dovede 24V. Na isti način se može promjeniti napon za okidanje antenskog releja ukoliko se za to ukaže potreba.
Sequencer schematic was modified because coaxial relays for terminating/switching of RX/preamp branch were 24V. Modification is simple, instad 12V 24V should be applied on source of coresponding P-channel MOSFET. Same modification is possible if 24V supply is necessary for antenna relay.
Gotovi uređaji (hvala 9A2WA na SMA konektorima):
Finished devices (TNX 9A2WA on SMA connectors):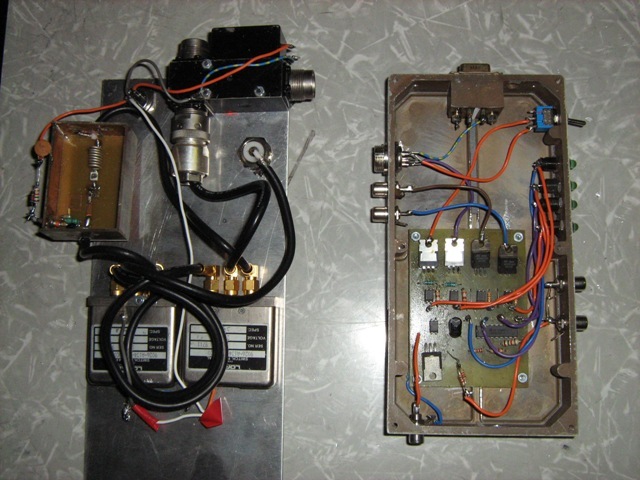 Rolando Milin 9A3MR